"Mom, I have something to tell you."
It was early in the morning one year ago today when my daughter Alex woke me with those words. I could tell from the tone of her voice that it was serious. I sat up, bleary-eyed, as she shut the door.
"Alan Rickman died." She stood there, watching the blood drain from my face. When she spoke again, her tone was soft and sympathetic.  "I know you check your phone when you wake up, and I didn't want you to find out about this on social media."
I'll always consider what Alex did one of the kindest things anyone has ever done, and a testament to how well she knows me. Fans are always upset by the death of their favorite actor or writer. But a fangirl? It leaves her devastated.
Die Hard and Robin Hood turned me into a Rickman fan, but it was the Harry Potter films that turned me into a fangirl. I read all the books, and Snape was my favorite part of the series. It was Rickman's assuming the mantle of the brooding, secretive professor that brought him to life.
Rickman was Snape to me, the intersection of descriptive art and tangible humanity as he loomed on the screen with that slight smirk, sweeping cape and deep velvety voice asking Hermione if she delighted in being an insufferable know-it-all, or telling his students that he could teach them to brew fame, bottle glory, or put a stopper in death. Keep your fantasies about cowboys with oiled six packs and billionaires with private jets. My darkest daydreams involved doing detention with a middle-aged Potions Master.
I wrote wickedly shameful, first-person fanfiction that you will never, ever see about the things that went on in that office. Sometimes I was the student summoned to meet Snape after hours. Other times I was a teaching assistant called in for breaking some arcane Hogwarts protocol. But it always ended with some angry sex. And a bit of tenderness. Because, Snape.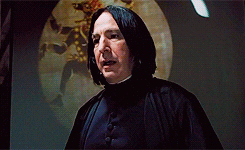 To the thinking woman whose ideal man is smart, aloof, and enigmatic, Snape was perfect. He was brilliant, tortured, but could also feel and love. And he had a protective streak, too. His whole life in the books was about protecting Harry the way he couldn't protect Lily. I cried when I read of how he was taunted at school. He was a loner who found it hard to place his trust in others. He hated superficiality, and at his heart was a scholar. He was my relatable character. And he was a teacher. Snape inspired us to give those we think are the bad guys a closer look, to view them through the prism of past hurts, and to understand that heroes can be found in the most unusual places.
And Alan Rickman gave Snape to me – to us - in the flesh, gave us his sneers, but also his vulnerability. He guarded Snape's secrets, but when he finally cracked we could see the light.  So when my daughter came into my room to tell me that Alan Rickman was gone, it was like losing Snape all over again, only worse, because what Rickman gave us was a unique interpretation that no one else can ever, ever replicate.
I mourned for Alan Rickman. I still mourn. Artists and actors and writers are Givers. They touch people in a way that inspires and encourages and stays with us. I don't think I'll ever really get over his death.
Because I was not just a fan. I was a fangirl. And that's just…different.
My latest book is called Mastering the Fangirl. Yes, it's full of heat and sex and explores the delicious fangirl fantasy of hooking up with our untouchable crush. But, no, it doesn't an Alan Rickman-type character. (Some fantasies must be kept between a girl and her idol. Always.)
My book is about a young woman, Emma, and her favorite author, Alden Fisher, and how she discovers that the strength he inspired through his work was in her all along. It is my hope that it touches the fangirl in all of you, the part that has dared reach out to love - or even slightly obsess over - those who give us beautiful, fictional worlds and whose losses makes us mourn, even though they never even knew our names.
Please reload
I'm busy working on my blog posts. Watch this space!
Please reload